On December 27, 1845, in his newspaper the New York Morning News, Journalist and influential Jacksonian advocate, John L. O'Sullivan wrote in response to the ongoing Oregon border dispute with the British,
"And that claim is by the right of our manifest destiny to overspread and to possess the whole of the continent which Providence has given us for the development of the great experiment of liberty and federated self-government entrusted to us."
Heavy stuff but the phrasing was contagious and the sentiment would go on to dominate American policy in the 19th century. Fast forward to little ol' me in Social Studies/History class. I loved learning about American history and 'World History' (as European history was dubiously referred). I remember learning about Manifest Destiny as a kid and thinking, "That's awesome!" From my uncomfortable plastic desk at the tail end of the 20th century it made perfect sense. Of course! It was our collective destiny to settle the frontier! It was our destiny to reach California and the Pacific ocean. Ocean to Ocean, what a stupendous idea! The America I knew was vast and sprawling and that was all thanks to the brave explorers who set out to tame the west!
Unfortunately, the version of history handed down to me was heavily sanitized. Scrubbed of the countless indigenous massacres, treaty betrayals, the effects of the Mexican-American War, and the eventual establishment of 'White Utopias' throughout Oregon and the northwest, it simplified the acquisition of the west to the triumph of civilization over savage populations and an unforgiving terrain.
During Thor: Ragnarok we see this reflected in Asgard's history as they became the seat of power throughout the Nine Realms. After returning from exile, Hela, the former king's executioner, is astonished to discover what has become of her former home. In the throne room she scoffs,
"Does no one remember me? Has no one been taught our history? Look at these lies. Goblets and garden parties? Peace treaties? Odin… Proud to have it, ashamed of how he got it. We were unstoppable. I was his weapon in the conquest that built Asgard's empire. One by one, the realms became ours. But then, simply because my ambition outgrew his, he banished me, caged me, locked me away like an animal."
Ragnarok is easily the best Thor installment and arguably in the top Marvel films. Taika Waititi brings his distinct and awkwardly charming humor, the action scenes stand up to any Avengers film, and the casting of Kate Blanchett, Tessa Thompson, Karl Urban, and Jeff Goldbloom was pure gold. Still, the element that grabbed me the most was the dialogue, specifically that of the film's antagonist Hela. It can't be understated that time in which this film was released, nor that its director comes from a Maori background. Yes, it's a Disney film, and yes it's a popcorn flick, but that doesn't change the fact that anti-colonialism is baked into this film. Let's get into it!
A quick recap for those unfamiliar with the Thor film series. The story begins with the snotty, ascendant prince Thor. Impatient and brutish, he longs for Odia to hand for the throne to cement his cosmic reign. And it is because of these traits that he is cast out and stripped of his powers. Left in Midgard (Earth) to learn some damn compassion, Thor grows his heart. He learns there's so much more to ruling than simply smashing and conquering. The throne requires valor, humility, and a cool head. We see Thor continue to cultivate these traits in the subsequent sequels and Avengers installments, so by the time his long estranged sister shows up ready for more pillaging, his idea of reigning is far removed.
Asgard, like Europe and the United States, was once dominated by its thirst for conquest. Like our Andrew Jackson, Odin road through the Nine Realms pillaging and murdering various races like the Ice Giants. We are asked to consider how Asgard with its golden towers and galactic prestige came to attain such qualities. Through Hela's disdain we learn it is precisely because of these atrocities that Asgard became, well Asgard.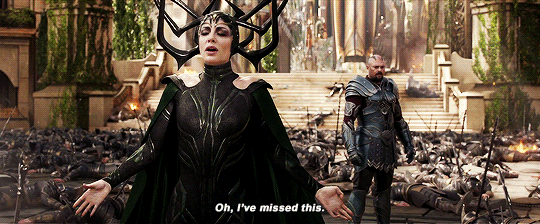 It's significant that Hela was banished, that she was sent into exile but not killed. Her views are toxically regressive but they persist. It's no mistake that this is juxtaposed with the most racially diverse Asgard we've seen to date. Much like America's resurgence of open White Supremacy and an uptick of racial violence in the past decade, Hela seeks to resort Asgard with the same bloodthirsty ambition which made Asgard… great.
"We were once the seat of absolute power in the cosmos. Our supremacy was unchallenged. Yet Odin stopped at Nine Realms. Our destiny is to rule over all others. And I am here to restore that power. Kneel before me and rise into the ranks of my great conquest."
-Hela
"In recent years, and even decades, too many people have forgotten that truth. They've forgotten that our ancestors trounced an empire, tamed a continent, and triumphed over the worst evils in history… We have become a lot stronger lately. We are not going to apologize for America. We are going to stand up for America"
-Donald Trump, May 2017
It cannot be argued that American domestic and foreign policy has shifted dramatically since becoming a 'super power' and despite firm Neoliberal policies we have collectively sought to be a guiding moral force– though this perception has largely shattered by the Trump administration. There are those of us who fight for a more just future, one that truly lives up the proclamations of our current nation. But to make a significant change, a dynamic shift forward, we as a people must first acknowledge where we came from. We are a nation built on stolen indigenous land taken in blood, and tilled on the backs of African slaves. Our character was cultivated by greedy, white slave owners and sustained through Jim Crow and exclusionary laws, as well as violent raids. America would be nothing without exploitation and theft, just as Asgard wouldn't be shit without conquest. But it isn't Hela or Trump who shy away from carnage, it is those who wish to rule these respective nations without actually acknowledging our dark side.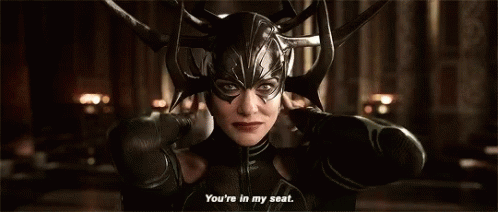 "It would seem our father's solution to every problem was to cover it up. You see, you never knew him, not at his best. Odin and I drowned entire civilizations in blood and tears. Where do you think all this gold came from? And then one day he decided to become a benevolent king. To foster peace, to protect life."
-Hela
This produces a conflict among our heroes as Thor, against overwhelming odds, strives to return to Asgard to unseat Hela, while Loki and Valkyrie resign themselves to a life exile and apathetic brooding. Thor, grown wiser and more compassionate throughout his short reign, comes to grips with his father's bloody past. He knows he cannot go back and alter time but he can rule with a much softer hand.
"I understand why you're angry. And you are my sister, and technically have a claim to the throne. And believe me, I would love for someone else to rule. But it can't be you. You're just the worst."
-Thor
Conclusion:
I don't think it's any mistake that Ragnarok concludes with the destruction of Asgard and Odin's parting wisdom, "Asgard is not a place, it's a people." This film is ultimately a reckoning with the past and an argument for the complete dismantling of an empire. What is Asgard without magnificent structures, its gold and it's treasure room, it's supremacy? A lot, apparently. The who survive its destruction do so because of their selflessness and courage.
Oh and along the way, they pick up Korg and Miek!